This month (June), we're celebrating Pride Month as we raise awareness and educate our employees, customers and communities to stand against discrimination towards lesbian, gay, bisexual, and transgender (LGBT) people and to promote an open and inclusive working environment.
We've adopted the rainbow as part of our logo; are rolling out enhanced diversity and inclusion training across the business, and; are joining in the Pride celebrations through our network of offices across the country.
Earlier this year, we were delighted that our CFO, Rob Hudson, was named one of Channel 4's Top 10 LGBT+ Diversity Heroes in the British LGBT Awards for his work in co-founding OpenLand, an LGBT networking forum for those working in the property and construction sectors. We caught up with Rob to find out more about OpenLand and his experiences of being LGBT in the sector. Listen to the podcast below.
History

June 2019 marks the 50th anniversary of the Stonewall Riots.
In the early hours of June 28th, 1969, police raided the Stonewall Inn, a gay club located on Christopher Street in Greenwich Village, New York. Patrons responded angrily with riots spanning over three days – one of the most prominent examples of LGBT people resisting against police discrimination. It is one of the most iconic moments in LGBT history and is credited with kick-starting the LGBT rights movement and for organising Pride marches on a larger public scale.
👉 Read a full account of the Stonewall Riots, here.
The first Pride Parade 🏳️‍🌈
On June 28th, 1970, Christopher Street Liberation Day marked the first anniversary of the Stonewall Riots with the first Gay Pride march in US history – from Christopher Street through 51 blocks to Central Park. Pride fever quickly spread, with protest marches taking place across the US and into Europe. London's first Gay Pride march took place on 1st July 1972.
This year, Google has launched its Pride Forever campaign; preserving LGBTQ+ history for future generations by extending the Stonewall National Monument from its physical location in New York City to a digital experience that can be accessed by anyone, anywhere. To find out more about the history of Pride, visit: https://pride.google/
Today
Today, Pride Parades take place across the globe, with Pride Month observed in June to mark the anniversary of the Stonewall Riots.
Birmingham
Birmingham Pride – nearest to our head office in Longbridge – took place on the 25th and 26th May, with representatives from St. Modwen and OpenLand taking part in its biggest-ever parade march.
"Marching in this year's Birmingham Pride parade felt more important than ever. With Birmingham currently at the centre of debate about schools teaching the award-winning 'No Outsiders' programme, there was a feeling that the need for Pride and the need to march was even more significant. Walking in the parade and seeing thousands of people – representing all ages, races and religions – joining in the celebrations and enjoying the colours and spectacle of it all was humbling. It was a special day." – Matt Walker, External Communications Manager
👉 Find out more about the No Outsiders programme, here.
London
Pride in London takes place on Saturday 8th and Sunday 9th July 2019.
Bristol
Bristol Pride runs from 1st to 14th July with 'Pride Day' taking place on Saturday 13th July.
Pride Cymru takes place between 23rd and 25th August in Cardiff.
Warrington
Manchester Pride takes place from 23rd to 26th August 2019.
Find out more:
Pride in Liverpool takes places on Saturday 27th and Sunday 28th July.
Pride Month Podcast with Rob Hudson
We sat down with St. Modwen CFO Rob Hudson to discuss his involvement in setting up OpenLand; why LGBT representation in business is so important; his experiences of being LGBT in the property sector, and; his opinion on the teaching of LGBT relationships in schools. Listen below 🎧.
Q&A with OpenLand Board Member Karolina Stein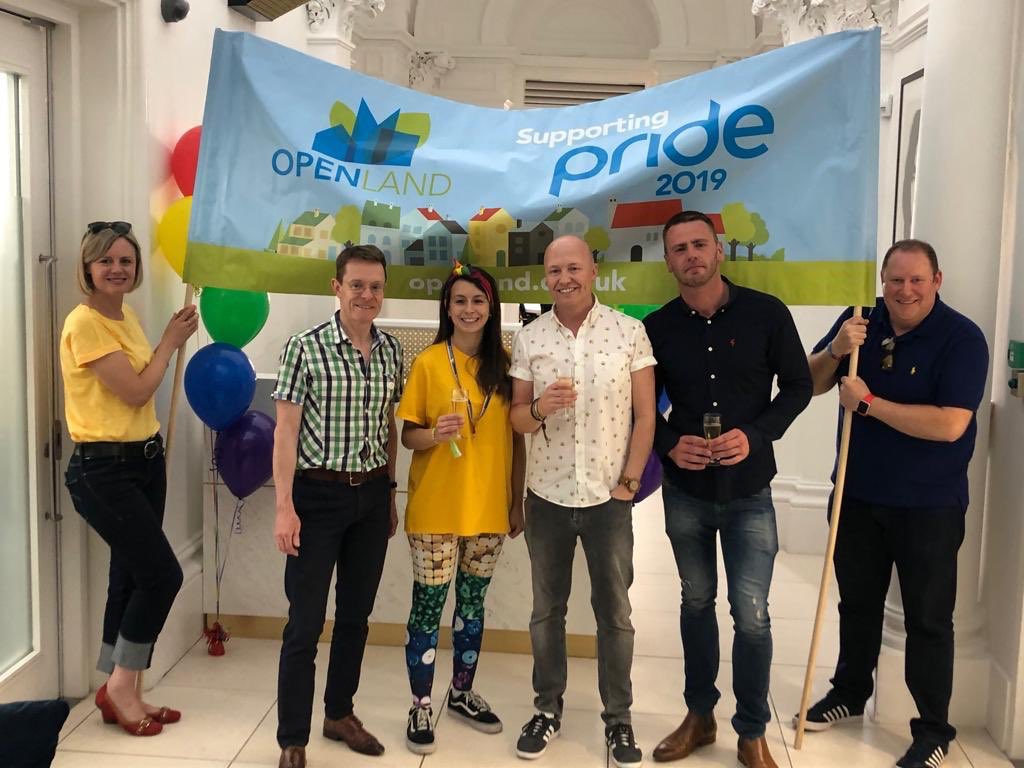 OpenLand at Birmingham Pride – Karolina pictured centre with West Midlands Metro Mayor Andy Street (second from left)
Tell us about your involvement with OpenLand?
My involvement with OpenLand started as a member attending events, basically because I wanted to meet other LGBT people working in the property and construction sectors.
I was invited to join the board to represent the young professionals in our membership and I wanted to use this opportunity to promote their interests.
Education is key to understanding the importance of diversity and driving inclusivity. As OpenLand board members, we are well positioned to facilitate that through our events which attract people from all over the sectors, including senior people who have the power to effect positive change within their organisation. I, for one, have been really keen to have a speaker who knows the industries and can provide an insight into how far we've come and the challenges ahead. So, joining our panel at our next event is Sharon Slinger, who has 20 years' experience as a quantity surveyor and now works with built environment organisations to improve their business through the implementation of diversity and inclusion strategies.
What does OpenLand help to do?
OpenLand provides a safe and non-judgmental space in which LGBT professionals and allies can network. We seek to bring together and connect like-minded people in a forum where they can exchange ideas and share best practice as regards LGBT inclusion and intersectionality to take back to their respective organisations.
We also increase the visibility of LGBT professionals within the property and construction sectors. A recent example of this is walking in the Birmingham Pride parade for the first time.
Speakers at our events keep attendees informed about opportunities and challenges in the sector, from both an LGBT inclusivity and market perspective. We also champion the economic success of the Midlands region of which we are immensely proud.
How have you found being part of OpenLand?
Really positive and rewarding in that I've seen OpenLand make a real difference to some of our members and that together, as a network, we are demonstrably delivering on our objectives. I've also made lifelong friends through my involvement with OpenLand.
Of course, it has also been challenging at times, trying to keep everybody happy and that's down to our broad membership base, in terms of profession from the civil engineer to the asset manager, as well as seniority from the property administrator to the CEO. But it's a welcome challenge because it shows our membership is growing and is fully invested in what we are trying to achieve, advancing the interests of the LGBT community in the sector. We value what our members think and that's why we carry out an annual survey so that we can deliver on what our members hope to gain from our events.
What has OpenLand helped you achieve?
On a personal level, my involvement with OpenLand has helped me grow my confidence and become more comfortable with my sexuality.
I've seen how the environment we create at our events has helped some of our members flourish in a similar way, people who were questioning or afraid of coming out of the closet and who, with peer support which they've found through OpenLand, have overcome internal battles and/or challenges in the workplace.
What I enjoy most is building relationships with people and collaborating with other networks and organisations. In my role as OpenLand board member, for example, I've helped Birmingham City Council find mentors from our membership for the Building Birmingham Scholarship, a really worthwhile initiative which provides access to education and employment opportunities for young people wishing to pursue a career in the built environment industries. I've also helped raise money for the Albert Kennedy Trust, a charity which supports young LGBT people who are homeless or living in a hostile environment after coming out, at our annual quiz.
👉 Find out more about OpenLand and get involved, here.
St. Modwen's proud swan 🏳️‍🌈
We, like many organisations, have adopted the rainbow flag into our logo to demonstrate our support for Pride Month. It's a symbol of unity with the LGBT community and with our colleagues who identify as LGBT. But how many people actually know how the rainbow flag came to represent the community? In this short video below, we share a snippet of the history of the iconic rainbow flag and what each of its six colours means.